Welcome to my homepage!
About me!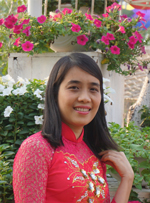 Huynh Thi Thanh Binh is Associate Professor and Vice Dean of the School of Information and Communication Technology (SoICT), Hanoi University of Science and Technology (HUST). She is Head of Modeling, Simulation and Optimization Lab (MSO). She is coordinator of Elitech Program in HUST.
She was Project Implementation Unit member, Higher Education Development Support Project on ICT (HEDSPI Project) from 2008-2014.
She is Associate Editor of the International Journal of Advances in intelligent Informatics, Editor Board of Journal of Computer Science and Cybernetics.
Her current research interests include Computational Intelligence, Artificial Intelligence, Memetic Computing, Evolutionary Multitasking
Contact: binh.huynhthithanh [at] hust.edu.vn / binhht [at] soict.hust.edu.vn